Highlights in the Euro Market in Summary (up to May 27th, 2019)
As of the close of May 27th the MSCI Europe is -3.9% MTD and +11% YTD
All eyes were on the UK last week as Prime Minister May announced that she was stepping down as Conservative leader, triggering the process to choose her successor. One can expect a new Conservative leader and Prime Minister to take office over the summer. Given May's departure, a political process to determine the Brexit end game—either by new Parliament elections or a referendum. They also expect a more binary outcome, with a higher probability of either a hard Brexit (25%) or Remain (45%). There is only a 5% chance of an orderly Brexit at this point.


Stepping away from the Brexit related headlines and the tough sentiment in Europe, there are many single name opportunities across EU Equity Markets. If one looks at some of the defensive stocks in Europe, they have performed strongly this year and even this month. Some examples include Nestle (NESN) +25% YTD and +1.5% in May, Unilever (UNA) +15% YTD and +2% in May and Danone (FP) +17% YTD and +2.6% in May. Others like LVMH (MC) +30%, L'Oreal (OR) +21% Kerring (KER) +18% and Adidas (ADR) +43% have also generated strong results.


Capital expenditure intentions in Europe have fallen sharply since 2018 and the risk of potential auto-tariffs remains a cause for concern in the region.


However, even though the economic numbers in Europe are not rosy, our view remains that one should not to get too bearish as equity valuations are not expensive, sentiment is muted, and economists project a (moderate) improvement in growth going forward.
PAST PERFORMANCE IS NOT INDICATIVE OF FUTURE RESULTS. THE VIEWS, STRATEGIES AND FINANCIAL INSTRUMENTS DESCRIBED IN THIS ARTICLE MAY NOT BE SUITABLE FOR ALL INVESTORS. OPINIONS EXPRESSED ARE CURRENT OPINIONS AS OF THE DATE(S) APPEARING IN THIS MATERIAL ONLY.
THIS DOCUMENT DOES NOT CONSTITUTE AN OFFER OR SOLICITATION TO ANY PERSON IN ANY JURISDICTION IN WHICH SUCH OFFER OR SOLICITATION IS NOT AUTHORIZED OR TO ANY PERSON TO WHOM IT WOULD BE UNLAWFUL TO MAKE SUCH OFFER OR SOLICITATION. ANY REFERENCE IN THIS DOCUMENT TO SPECIFIC SECURITIES AND ISSUERS ARE FOR ILLUSTRATIVE PURPOSES ONLY, AND SHOULD NOT BE INTERPRETED AS RECOMMENDATIONS TO PURCHASE OR SELL THOSE SECURITIES.
Sources: Global Reflections, by Nick Savone, Morgan Stanley, May 24th 2019; Octogone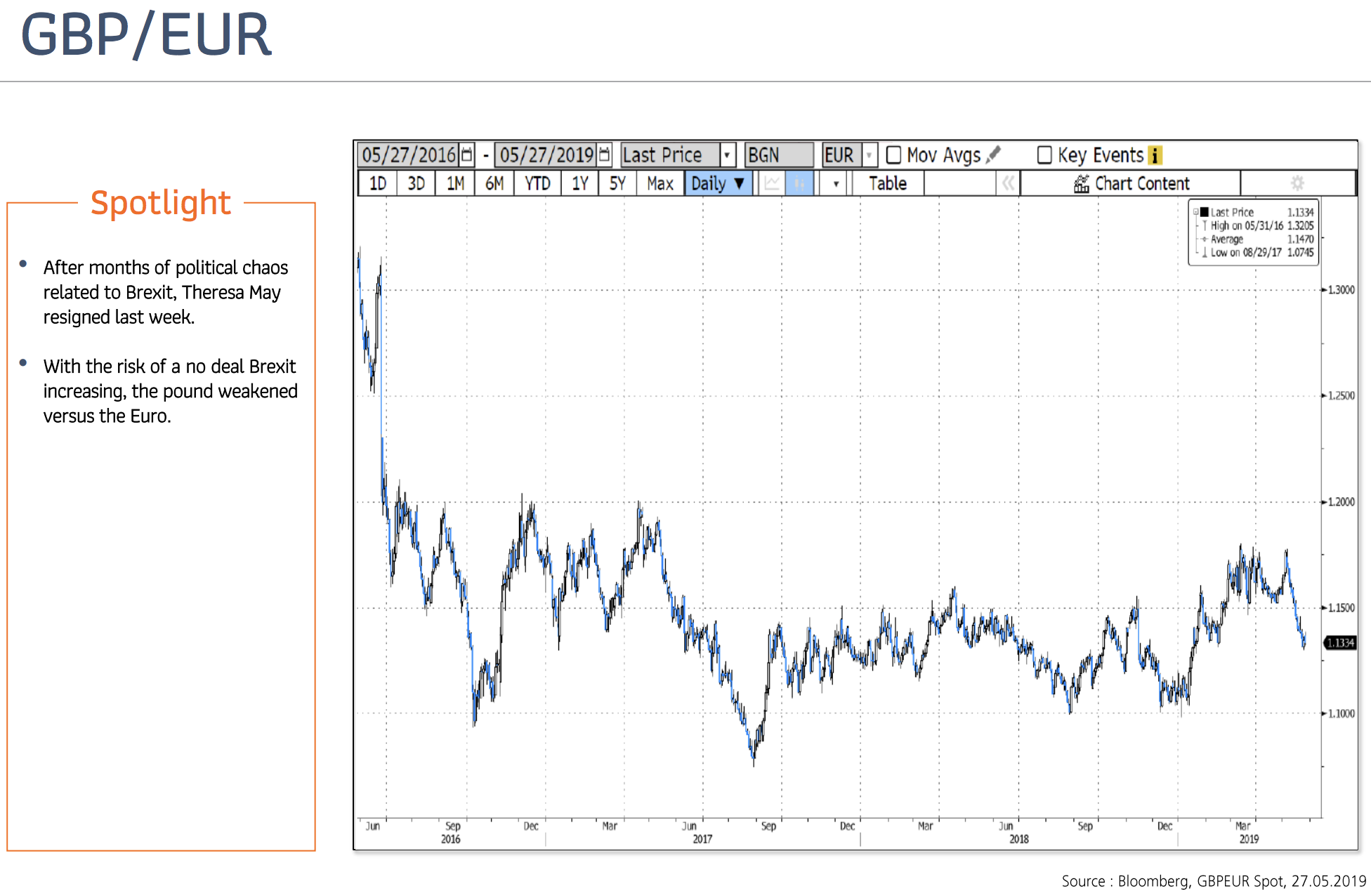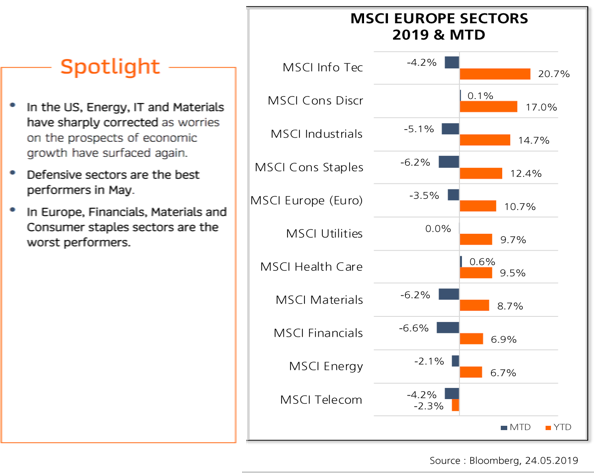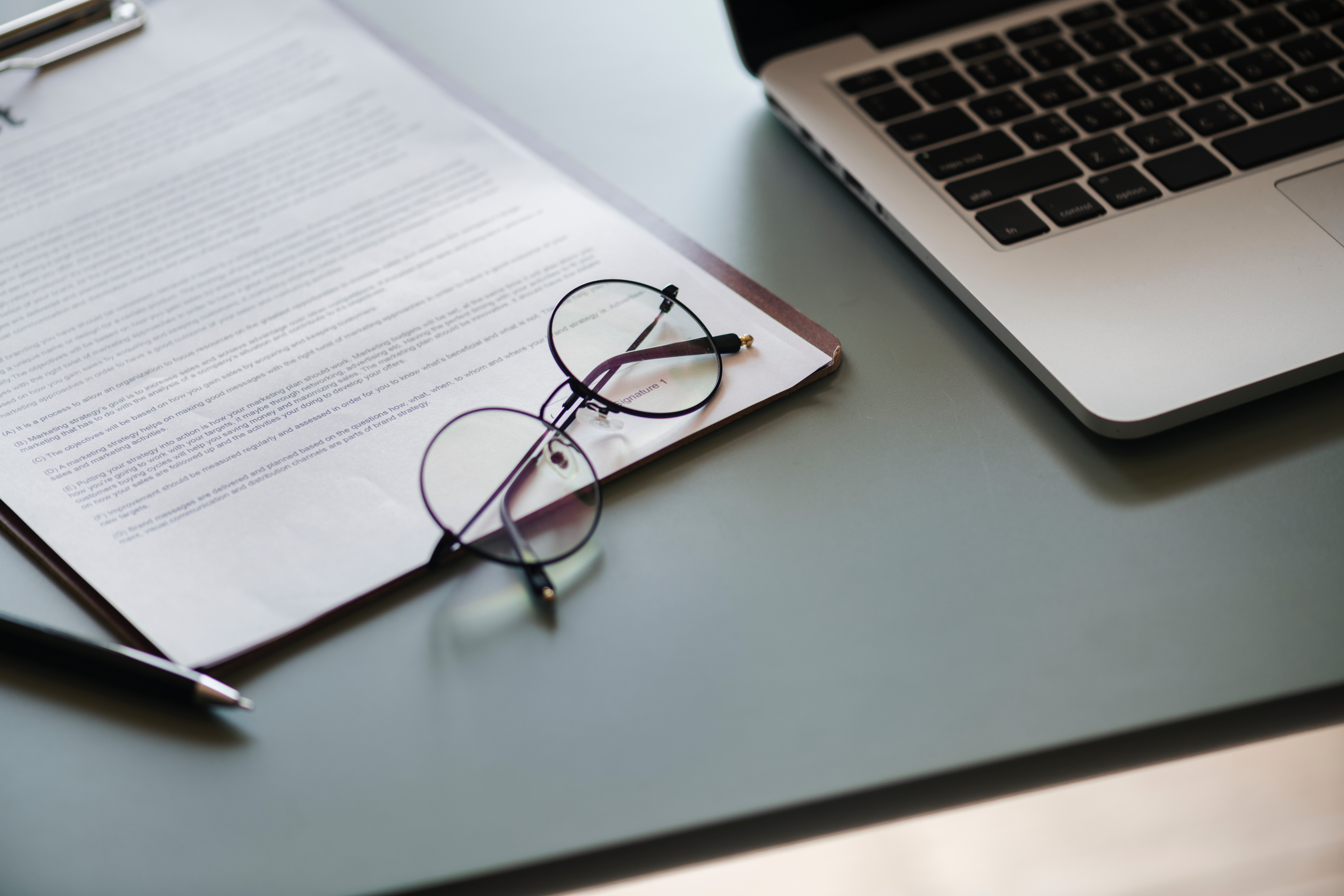 International Markets & Cryptocurrency