Equity's Corporate Social Responsibility 2020
LionPress October 2020 Issue
As of July 31st, 2020
On the heels of Hurricane Dorian, the Bahamas, and indeed the world, has been dealt a significant blow economically from the COVID-19 pandemic. The trickle-down effect of the economic slowdown has increased joblessness with a detrimental effect on the personal finances of many households. Businesses were also impacted to various extents, affecting their customer base, which drove unfortunate layoffs within many industries, financial services inclusive.
Amidst this environment, in solidarity with the Bahamian people and our customers, Equity Bank And Trust is proud to report that it retained all of its employees without reduced salaries. This provided great relief to many and sustained the level of exemplary service and leadership you have come to expect from Equity.
Assistant Vice-President of Human Resources, Mrs. Kayla Johnson says, "Given the global pandemic we are currently experiencing, we are overjoyed and proud that we kept all our staff intact and we continue to recruit to fill appropriate positions moving forward." Mrs. Kim Thompson, Director of Human Resources says, "It is the brilliance of our employees that enable Equity to weather every storm, and to create peaceful waters for our clients. We remain a united front as a preeminent organization, as a community and as a country".
Additionally, Equity has continued its commitment to hiring interns for summer employment, providing them the opportunity to hone their skills with real world experience. "Amidst COVID-19 I am really grateful for the opportunity to have a learning experience at Equity Bank And Trust", says Ms. White, Banking Intern.
In support of the Bahamas' robust workforce of highly trained and experienced financial services professionals, Equity has employed four intelligent summer interns from the Bahamas whom are undertaking undergraduate studies abroad in business disciplines predominantly. They are:
Eeden Bethel, Corporate Intern, currently undergoing a Bachelor of Science at York University, Ontario, Canada.
Denning Graham Cassar, Banking Intern, currently undergoing a Bachelor's of Commerce degree with a specialization in accounting and a minor in economics at the Rotman School of Management at the University of Toronto in Ontario, Canada, and a Jamaine McFall EY Scholarship recipient.
Megan Thompson, Administration Intern, currently undergoing a Bachelor of Science degree in Accounting at Nova Southeastern University, Fort Lauderdale, Florida, USA.
Alexis Knowles, Administration Intern, currently undergoing a Bachelor of Arts degree in Business and Accounting at Mount Saint Vincent University, Halifax, Canada.
Janae White, Banking Intern, currently undergoing a Bachelor's degree in Banking and Finance with a foreign language at Francis Xavier University in Antigonish, Nova Scotia, Canada.
Equity continues to foster community and national pride among its staff reflected in its team building Independence Day exercises as a fun day for staff to include prizes and surprises.
Building on its contributions to Hurricane Dorian efforts via the Bahamas Financial Services Board and the Hurricane Dorian Private Sector Pledging Conference, and several other initiatives captured in earlier publications, Equity presses forward to host its fourth annual Charitable Art Exhibit to be scheduled during Q4 of 2020 in support of local artists.
The company is thankful for the resilience of the nation, its employees and the world at large as efforts are made to responsibly restore and reopen economies during this new normal environment. Equity is happy to do its part and is committed to continue being a force for professional excellence, preeminent bespoke financial and corporate services, and community upliftment – it is in the company's DNA.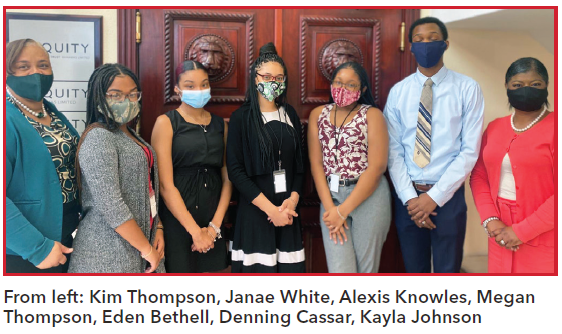 International Markets & Cryptocurrency