The effects of the current global COVID-19 pandemic and the lingering impact of Hurricane Dorian which desecrated Grand Bahama and Abaco in September 2019 continue to wield significant influence over the Bahamian economy as its strides towards recovery. Nonetheless marginal growth of the economy is anticipated over the course of 2021, spurred on by the gradual occurrence of tourism sector activity, nationalistic government policies, construction projects linked to tourism and post-Dorian reconstruction. In particular, the restoration of normal levels of commerce hinges on the outcome of private and public sector initiatives to aid the co-existence of everyday life with the corona virus, inclusive of the topical availability and efficacy of vaccines. Meanwhile new industries present themselves as opportunities to diversify the economy through innovation.
As tourism accounts for approximately 50% of GDP and up to 70% of GDP considering tourism linked construction, the evolutions of this sector are worth studying. The alluring sand, sun, sea and culture of the Bahamas are the jewels of the country, being responsible for record levels of visitors in 2019 totaling 7.2 million tourists, a 9.2% expansion to the 2018 visitor levels. National economic growth in 2019 was 0.9%, which is a half of the projected level, softened as a result of Hurricane Dorian in Q4 of 2019 despite record tourism numbers which helped to buoy the overall performance. Since then, by contrast, as of January 2021, total visitor arrivals were 23,619 people as compared to 687,200 foreign arrivals in January 2020, reflecting an 84.3% decline In YoY air arrivals, a 99.6% falling-off in sea arrivals and an overall decline of 96.6%. Consistent with this, as of January 2021, large hotel and resort bookings locally suffer an occupancy rate of a mere 7.5%, and to support expenses given a diseconomy of scale have increased the average daily room rate to $327.83, a 25.6% increase. As tourism remains a significant employer of nearly half of the general workforce, unemployment is expected in the near to medium term to remain subdued in direct correlation to the tourism sector getting back online with additional vigor, as well as with the pace of construction sector projects.
Ironically, February 2021 numbers show that in the midst of the pandemic AirBnB and overall short terms rentals are outperforming the hotels in momentum, with February 2021 short term rental room nights sold elevated by 24%, with comparable average daily rates also climbing but to a lesser extent - by 3.8% for hotel comparable units and by approximately 6.5%. for entire place dwellings. This suggests that visitors may prefer the seclusion of a comfortable, cultural, local home environment than mixing with other tourists within a justifiably stricter environment of a resort with protocols. For locals looking to diversify their streams of income, this may therefore pose an opportunity for consideration – and the support services for short-term rentals, such as cleaning and rentals management.
Nonetheless, tourism remains auspicious as a result of the measures taken by the Government to usher in the return of cruises to the Bahamas, and with the Bahamas Health Visa inclusive of relevant insurance coverage. Reputable cruise brand Royal Caribbean is officially returning to the Bahamas as soon as June 2021 offering seven-night round trips, visiting the islands of Perfect Day at CocoBay (it's private island in The Bahamas), Grand Bahama and Cozumel, Mexico with a capacity ranging from 3,114 to 3,807 passengers. As noted by the Prime Minister, "I am especially pleased that Royal Caribbean, with whom we have had a long and mutually beneficial relationship for more than 50 years, selected The Bahamas as a homeport when sailing resumes. This is truly a new day for tourism. It should inspire many small- to medium-sized businesses, tour operators, taxi drivers, restaurants and retailers to prepare for brighter days ahead, the best we have ever had."
Given that approximately 80% of the tourists to the Bahamas hail from our neighbor the United States, it is certainly also rousing news that the US Government has enacted a $1.9 trillion pandemic rescue bill, with disbursements to eligible Americans having commenced already in March of 2021. These $1,400 stimulus cheques will lessen the blow of the pandemic on the finances of many households suggesting higher disposable income for travel, inclusive of to The Bahamas.
Likewise, the Government of The Bahamas has invested in keeping the economy energized through its direct cash assistance and other efforts. On a December 9th, 2020 publication by the Government, it is noted that since March 2020 in addition to the normal unemployment benefits of the National Insurance Board with distributions totaling $97.5 million, that an extra $91.8 million was provided in assistance payments to 36,959 persons (roughly 10.6% of the 2010 census populous) up to the end of November 2020. As a result of slowing revenues from Value Added Tax, Custom Duties, Property Taxes and non-tax revenues in conjunction with elevated spending on extraordinary expenses related to pandemic containment, health welfare, other relief social assistance programs and post-hurricane rebuilding efforts, the national fiscal deficit significantly swelled during the first half of fiscal year ("FY") 2020-2021. The Q1 and Q2 fiscal deficit of FY2020-21 widened to $736.1m as compared to $194m during the same period in FY2019-20. This is reflective of a 39% falloff in total revenue and an 8.7% growth in total expenditures.
With respect to $BSD private sector bank credit, February 2021 numbers evince an overall YoY increase of $5m as compared to a $0.6m decline in private sector credit in February 2020. This is reflective of a $7.7m increase in commercial credit, $0.7m increase in consumer credit and a decline in mortgages by $3.3m. The conservative lending position of the local commercial banks leaves the banks in a considerably liquid state – nonetheless – this is moderated by a slight contraction in deposits, resulting in some wanning of bank liquidity. In February 2021 total Bahamian deposits lessened by $4.2m compared to $44.4m gain during February 2020 and likewise in February 2021 foreign currency deposits wanned by $19.6m in contrast to a $16m gain in February 2020. Dampened earning potential on average during the pandemic may explain the deposit reductions.
The quality of private sector loans was moderately improved during February 2021. Private sector arrears (overdue payments) decreased by 7.3% ($57.3m) to $727.8m. As of February 2021, the ratio of private sector arrears to total loans was 13%. Contributing to this outcome were: a decrease in both short-term arrears by 18.1% and non-performing by 0.8%; a 9.3% decrease in mortgage arrears; a 6.9% decline in consumer arrears; and a contrary 7.3% increase in commercial delinquencies. This suggests that customers are prioritizing personal/household loan repayment over commercial/business loans. By way of comparison, in contrast, in February 2020 total private sector arrears grew by 1.6% (0.9% from short-term arrears and 0.8% from Non-Performing Loans).
The Bahamian dollar peg to the United States dollar (1 $BSD to 1 $USD) remains intact, with current and projected external reserves being sufficient to maintain it according to the Central Bank of The Bahamas. Nevertheless, given the slowdown in foreign dollar inflows via the tourism industry coupled with the intensified foreign currency outflows required for imports driven by reconstruction projects there has been downward pressure on external reserves. In February 2021 external reserves diminished by $62.8m to approximately $2.257 billon, in contrast to a $106m gain in February 2020. Cognizant of this, to preserve the external reserves in custody, the Central Bank's temporary suspension of its Investment Currency Market (ICM) remains in effect, in our estimation for the remainder of the year and into the first/second quarter of 2022 purely based on speculation. The ICM is how Bahamians wishing to invest in international markets purchase the requisite foreign dollars to do so. Hence, Bahamians in this environment may wish to consider local investment opportunities – inclusive of those which have some correlation with international markets by way of proxy.
The government has also astutely enacted protectionist policies in pursuit of national food independence by way of requiring 40% of produce used by resorts to be acquired from local producers. Amidst an estimated $1 billion annual bill for imported food, this measure has the potential to considerably give birth to a vibrant agricultural industry, providing a viable career path for Bahamians. Local efforts towards diversification into more environment friendly energy sources, such as into fossil fuel variant Liquified Natural Gas and in solar panel projects, provides the impetus for more substantial concentration on renewable energy. Clean energy is a potentially generous opportunity in light of status quo imports in excess of $525 million in oil products (2019).
With respect to interest rates and the cost of living, inflation decelerated in the 12 months leading up to January 2021 by 0.6% as indicated by the All-Bahamas Retail Price Index deduced to be as a result of reduce oil pricing. This is as opposed to a 2.4% increase in consumer prices during 2020. As of February 2021, year over year the weighted average interest rate of bank loans elevated by 22 basis points to 10.13%. In divergence, the weighted average deposit interest rate declined by 11 basis points to 0.56%. Nevertheless, the highest interest rate on bank fixed deposits longer than 12-month terms sat at 4%. Investors should consider the interest rate earned on their capital as compared to the inflation rate, to ensure that there is not a loss in net holdings given the time value of money.
As the country strives to restore normalcy and a "built-back-better" Bahamas, a multi-factored gradual process, there are still opportunities to smartly navigate wavy waters to create your own calm. At Equity we are fiercely committed to your success.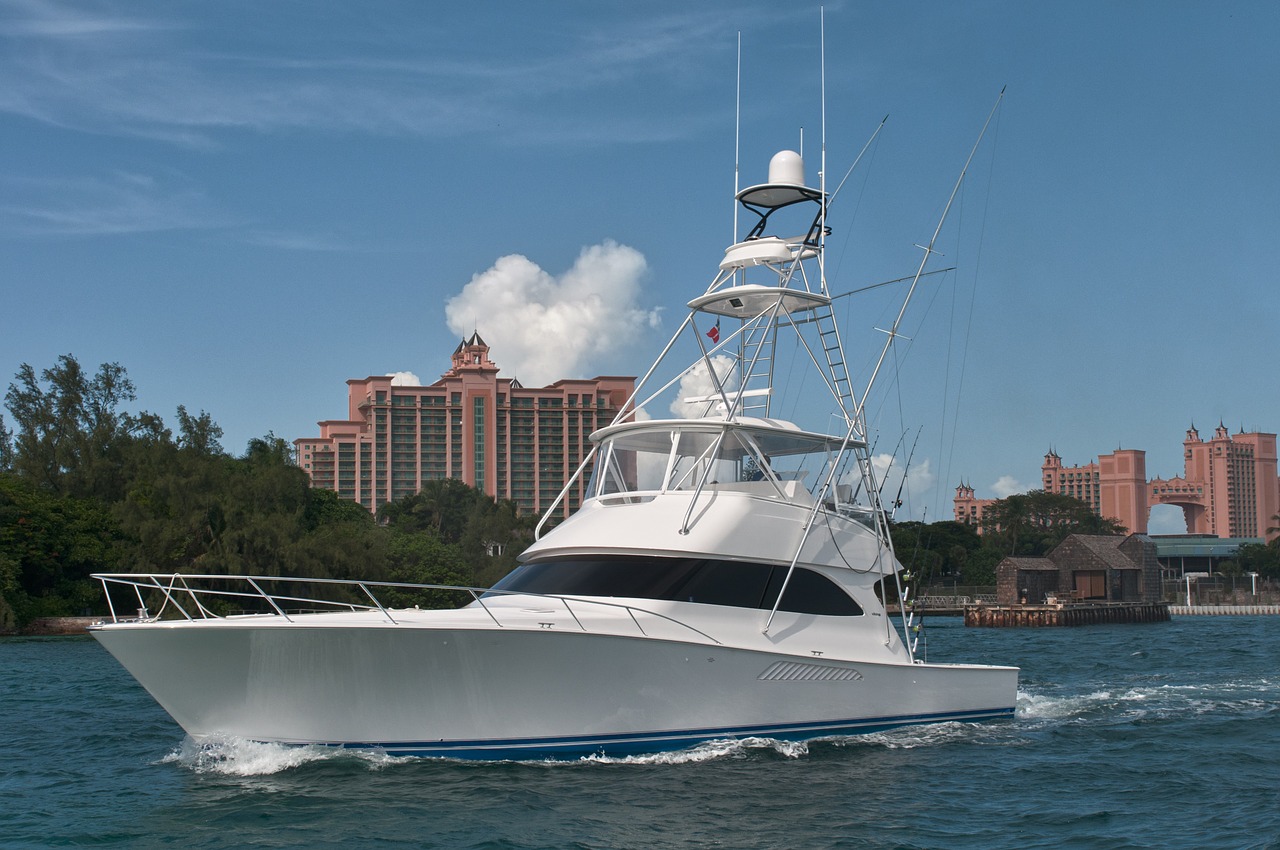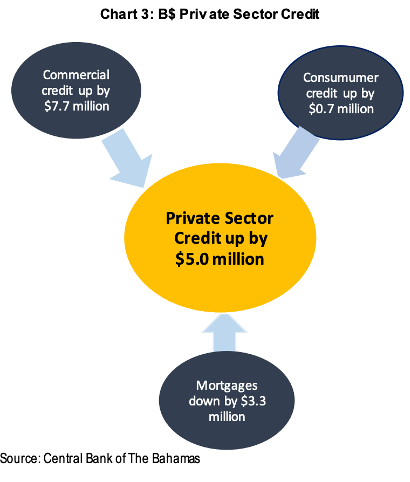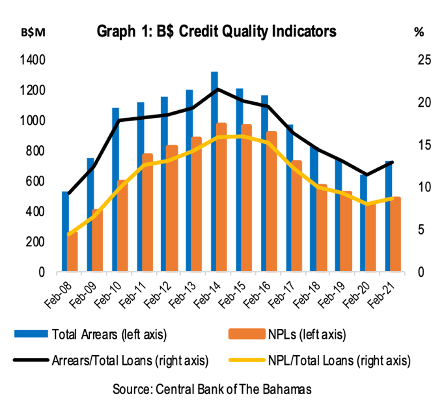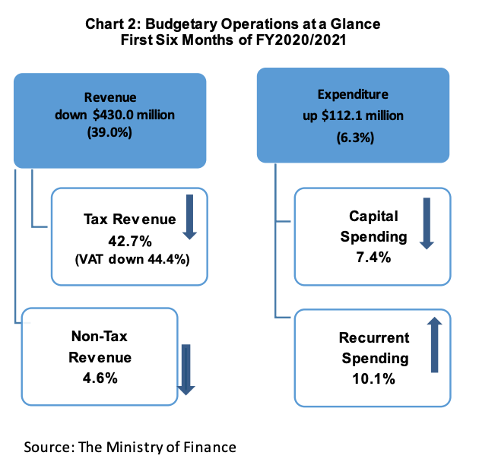 International Markets & Cryptocurrency