Equity Rewards Miss Bahamas Universe - Chantel O'Brian
LionPress Winter 2022 Issue
On Sunday December 12, 2021, Miss Bahamas Universe, Chantel O'Brian made history as she became the first Bahamian to place in the highly coveted Top 10 at the 70th Miss Universe pageant.
The Miss Universe pageant was held in Eilat, Israel and featured contestants from 80 countries around the world. Since The Bahamas' debut in 1963, no Bahamian contestant has ever placed in the pageant. Ms. O'Brian not only placed in the Top 15, but also the Top 10; this is an outstanding achievement for the small nation of The Bahamas.
Ms. O'Brian is the co-founder of the Leading Ladies Project which is aimed to encourage, motivate and inspire young girls in inner city communities to purse their dreams.
During the preliminary competition, Ms. O'Brian also received the Spirit of Carnival Award presented by Carnival Cruise Lines as she showcased the values that represent the cruise line: fun, friendship, diversity and inclusion.
Ms. O'Brian says that she is grateful, humbled and thanks God for the turn of events that transpired during the pageant on Sunday evening.
On Thursday December 16, 2021, at 12 noon, Equity Bank Bahamas Limited welcomed Miss Universe Bahamas, Chantel O'Brian. She was also presented with a token of appreciation for her stellar performance in the 70th Miss Universe pageant on behalf of Equity Bank Bahamas Limited.
Kim Thompson, Director said [to Ms. O'Brian] "you brought us to the world, and you have empowered so many persons that don't even know you yet to think that they can actually come and do something that is in their heart."
Angel Cartwright, Banking Officer and Former Miss Bahamas World 2018 contestant said "I hope that this reminds viewers that beauty pageants aren't just about glitz and glamour but the beauty of a woman having the opportunity to be united for a common mission to create positive change in our communities."
Ivylyn Cassar, Chairman expressed how proud she was with Ms. O'Brian and said "she is a role model, an example of what we, women can achieve and here at Equity, we have women as directors. We have women as vice presidents. We have women as assistant vice presidents, and we have women as managers. The Bahamas is such a good country where we have this freedom as women to shine and to be empowered."
Equity also contributed towards Ms. O'Brian's travel expenses to Israel for the 70th Miss Universe pageant.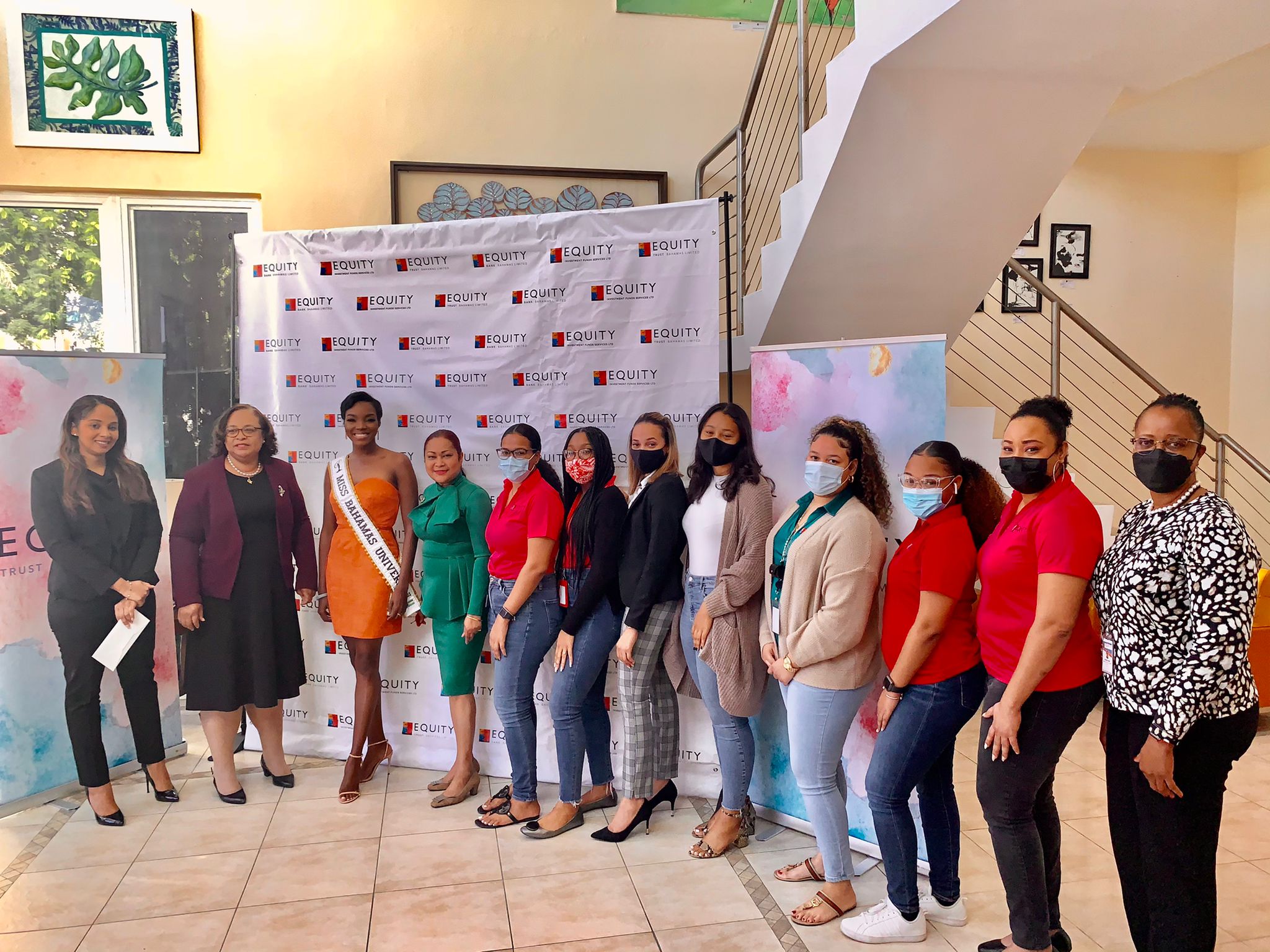 International Markets & Cryptocurrency